Digital Media Operations
The need for innovative advertising approaches, both in established and emerging channels, is rapidly increasing, causing media buyers to struggle to manage their resources effectively while planning, executing, evaluating, and communicating their strategies and outcomes. Jetsoftech is the ideal partner to help you tackle these challenges. Our all-in-one marketing solution streamlines the process of running successful marketing campaigns. We are committed to maximizing your efficiency by prioritizing performance and offering digital media services that support your collaboration with clients.

Our commitment is to assist our clients in achieving their business goals by providing a comprehensive suite of services that cover media campaign optimization, advertisement operations, creative execution, data analytics, and strategy. We strive to deliver measurable results, improve your bottom line, and drive higher return on investment (ROI) for your business.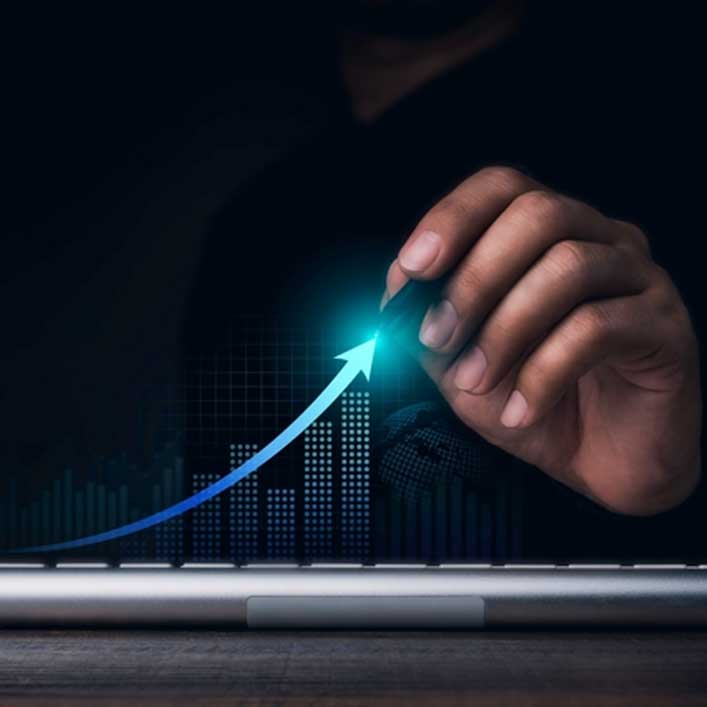 Solutions We Offer
At Jetsoftech, we provide a wide range of comprehensive digital marketing solutions, including digital media strategy and planning, media ad operations, creative strategy and development, creative operations, performance marketing, and campaign analytics and reporting. Our goal is to help businesses achieve their marketing objectives and drive growth through effective and data-driven marketing campaigns.
Digital Media Strategy & planning
At our company, we are firm believers that successful campaigns are not only measured by metrics but also by client satisfaction. Our approach involves working closely with brands to develop strategies that are customized to meet their unique needs and business objectives. Our goal is to help brands achieve greater outreach and cost-effectiveness through data-driven insights that are grounded in human behavior. Our strategy and planning initiatives are designed to provide maximum impact while reducing costs.
Creative Strategy & Development
Elevate your brand and captivate your customer base with compelling communication strategies and creatives that drive optimal engagement and accelerate your business growth. Our in-house team of creative talent, including graphic designers, copywriters, and more, collaborates closely with our strategy and management experts to help you create impactful advertising and marketing materials that align with your brand identity and communication objectives. Trust us to deliver top-notch, customized solutions that will make your brand stand out from the crowd.
Performance marketing
At Jetsoftech, we specialize in creating and managing data-driven marketing initiatives that drive performance and deliver maximum ROI for your business. Our comprehensive service offerings cover planning, budgeting, buying/bidding, optimization, and analysis for all performance media channels. These channels include, but are not limited to, social media platforms such as Facebook, Instagram, Twitter, Snapchat, TikTok, Google, PPC & search, and e-commerce platforms like Amazon, as well as programmatic platforms like Trade Desk, DV360, and more. Our primary focus is to help you achieve tangible business results by identifying and targeting the right audience and optimizing your marketing campaigns accordingly.
Media Ad operations
We offer end-to-end management of ad execution, starting from preparing media campaigns for launch, to overseeing creative development and targeting quality assurance. Our specialized team of experts operates as an extension of our clients' in-house teams, streamlining processes and identifying the most suitable personnel to execute them. Available 24/7, our team collaborates with your internal teams to implement cost-effective, data-driven campaigns that drive your business growth.
Creative operations
Our dedicated creative development team at Jetsoftech includes skilled graphic designers and art specialists who specialize in creating scalable adaptations of your advertising creatives that are tailored to each platform and placement. Our expertise spans across various formats, including but not limited to statics, GIFs, and videos. Trust us to provide customized solutions that enhance the impact of your advertising campaigns across all channels.
Campaign Analytics & reporting
Our platform enables you to track the performance of your omnichannel campaigns in a single location, allowing you to analyze and monitor key performance indicators (KPIs) and budget effectiveness. With our interactive reporting dashboards, you can easily assess campaign effectiveness and make data-driven decisions to optimize your return on ad spend (ROAS). By measuring the KPIs that matter and comparing them to historical and industry benchmarks, you can enhance your organization's performance and achieve greater campaign success. Our goal is to provide you with the tools you need to gain valuable insights and make informed decisions that drive business growth.